Introducing the Barnes & Noble "Nook":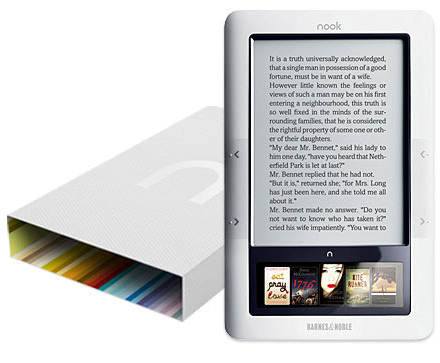 I'm guessing that this is a leak — the "overview" link goes to Brsnoble's e-book page, and there's no mention of the "Nook" on the front page. Also the images refer to it as a "Hero"… development name perhaps?
They found a clever solution around the keyboard problem; e-ink displays are (apparently) incompatible with the surfaces that are used with touch-displays like the Apple iPhone, thus necessitating a chicklet keyboard (like the Kindle) or no keyboard at all (Sony). The "Nook" is instead putting an iPhone-style color display underneath the reading area. It doubles as a browser for full-color book covers. An LCD display is also like a tiny TV underneath the book (update: click to see in action), so I hope that it shuts off during formal reading time. (Of course it also cuts down the "reading space" to the top 3/4 of the device, but that's no worse than the Kindle.)
I was dismissive of Barnes & Noble's chances of entering the e-book market with a proprietary device this late in the game, but I think we're looking at a surprise Christmas hit.
Also notable…
It runs the Google Android OS (developed for cellphones). Awesome.
If Nook is successful, there will be two incompatible, competing, DRM-encoded e-book standards. That's going to be a mess. (I don't consider Sony's efforts to be "successful" yet.)
Barnes & Noble also has iPhone/Blackberry/Mac/PC reading softwares coming out, so you'll be able to read books on multiple platforms. Like Amazon, they're more interested in selling books than devices.
Cross-compatibility between Nook and Sony readers — or even Nook and Kindle — is technically possible, but, as long as they're "selling the razor blades," unlikely.
If the PDF support is any good, you'll see a lot of used Kindles on eBay overnight.
Engadget hints that you might get your filthy mitts on one at Best Buy this Thursday.
"hero implies hero shot… marketing term for that kind of image, as opposed to front/side/back" thanks CharlesV
And hey, great news for book cover designers… your craft will be preserved in the space of a postage stamp.