One of my favorite covers of recent memory is John Gall's design for Like You'd Understand, Anyway.
– Aesthetically, it just does it for me. NASA photo with a classic serif thrown on top. Orange reflective on a bright blue background. Just killer. (Do yourself a favor and ignore the kerning.)
– (Most of) the stories in the book deal with base human emotions within the context of extraordinary events. One of the short stories involves a love-struck female cosmonaut who walks around in a bright orange spacesuit. Whoever found the image did such an amazing job relating it to the content. Not only did it match the story line in a literal sense, but you've got a guy about to be propelled into space at 10,000miles an hour standing there like he's wondering who's gonna bring him a ham sandwich.
Anyway, going through the Corbis collection tonight for a project and ran across the source material. Turns out the color is all a sham. Which is equally awesome for entirely different reasons.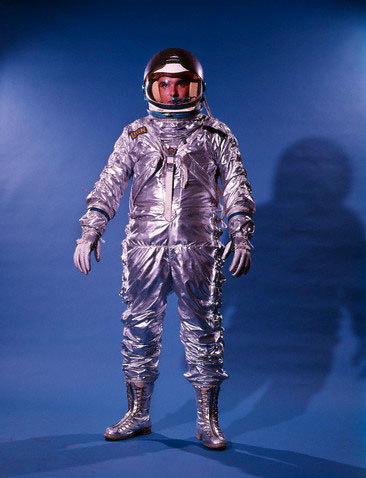 © H. Armstrong Roberts/ClassicStock/Corbis
1960′s Man In Silver Astronaut Space Suit And Helmet
Postscript:
- It's a great book. Read it.
- Though I found the image through Corbis, the source is credited to ClassicStock.