Maud Newton put together a nice summary of e-reading options for the iPhone.
Items of note:
- Randomhouse just started offering free book downloads for Stanza.
- Interesting to see that the an iPhone displays about as many characters as a Kindle. Of course the iPhone doesn't have the nice E-Ink® flatness of the Kindle or the 800×600 resolution. But still, surprising.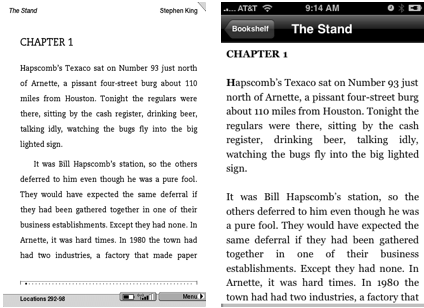 I have yet to try reading an eBook of any sort, but I have to admit they're starting to make it fairly appealing. How about you guys? Given the context of this blog I have to admit I feel bad even considering the option. It won't be long before book cover designers are going to have start worrying about how their designs work with a z-axis and basic tweening .
(via Casual Optimist)