Peter Mendelsund tracks down how many clicks it takes to get from one of his covers to a picture of a naked woman on ffffound.com:
I've been a big fan of the popular website FFFFOUND! since it's inception. The site is chock-filled with interesting design, curated (for the most part) by users with wide-ranging visual interest and impeccable taste. … Here's the rub: this associative system invariably leads me, without my knowing it, to an image of a naked lady.
Of course the write-up is accompanied by an infographic.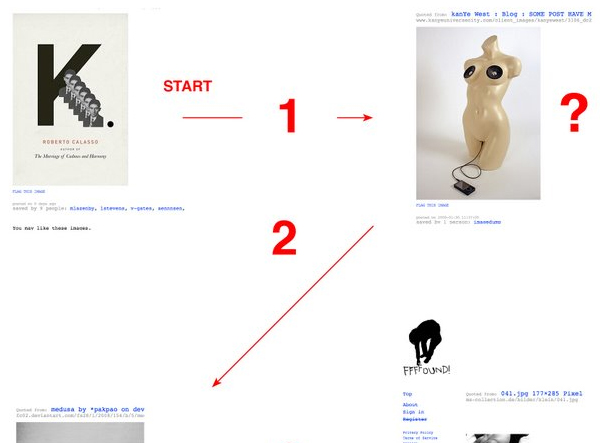 The whole thing is pretty hilarious. Read the full write-up here. (His blog doesn't allow deep-linking, so you'll just have to scroll down a bit.)
- – -
Also, as a bit of self-whoring here, General Projects has a small utility which allows you to download the images in anyone's ffffound account to your hard drive: ddddownload.com. It's not the fastest service in the world (works on a queue system), but it works!